Grant House Sewing Machines is a distributor of Brother Sewing Machines. Below is a list of some of the machines we carry in the store.
We offer free individual instruction on the machine you purchase.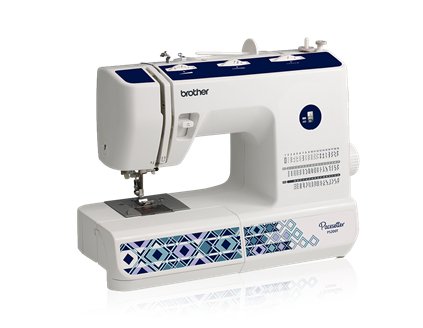 Brother Pacesetter 200T
Whether you're looking to sew or quilt, you can't go wrong with the Brother Pacesetter PS200T Sewing & Quilting Machine! It comes with 53 built-in sewing stitches, including a style of one-step buttonhole that makes sewing stylish dresses, jackets, and tops easier than ever.
The built-in threading system makes getting started on your next sewing project a snap, and thanks to the brightly lit LED work area, you won't have to worry about dropping a single stitch. This sewing machine also provides you the tools you need to construct cozy patchwork quilts or other DIY projects, so be sure to explore all the exciting features today!

Brother Pacesetter 500
For those that love high-tech features when they're mending or sewing, the Pacesetter PS500 Sewing Machine is a must-have device. It's sleek and stylish, perfect for whatever your sewing needs may be. It comes with a 2.4" x 1.3" LCD Display that gives you clear visuals and control over your device, as well as an automatic thread cutter. And with 100 built-in stitches,

, including 7 styles of one-step buttonholes, and 4 sewing lettering fonts,

your ideas and designs will be virtually endless! Whether you want to go simple or avant-garde with your next fashionable design, this device is the one you need to turn your dream into a reality.


Brother Pacesetter 700 Sewing & Quilting Machine
For sewers and quilters who like to create custom projects all their own, the Pacesetter PS700 Sewing & Quilting Machine is a must-have. It offers a comprehensive range of different features and options that will impress even the most experienced seamstress or quilting fan.
The sewing machine provides you with 180 built-in stitches, 40 of which are combinable. There's also 10 distinct styles of one-step buttonholes and 5 gorgeous sewing lettering fonts perfect for monogramming gifts for family and friends. And for those who love to create their own distinct patterns and styles, there's the My Custom Stitch Feature. Get ready to let your creative spirits soar with this fun and dynamic quilting machine!

Brother PQ1500SL High Speed Straight Stitch Sewing Machine
The PQ1500SL is a dream machine that belongs in the sewing room of every serious quilter and seamstress. It is a high-speed straight stitching machine, sewing up to 1,500 stitches per minute! The PQ1500SL offers an adjustable pin feed mechanism, 4 feed dog settings for maximum fabric control, a knee lifter and bed extension table for quilting, full range foot pressure adjustment and an automatic thread cutter with F.A.S.T. needle threader - a time saving convenience.
Brother Innovo-ís NQ3600D Combination Sewing and Embroidery Machine
The Innov-ís NQ3600D offers state-of-the-art features such as automatic thread trimming system, giving you the opportunity to cut every jump stitch by moving the frame. The large workspace, Automatic Height Adjuster (AHA) feature and the Pivot function all make for easy sewing and quilting projects. It has
291 built-in stitches, 10 styles of one-step auto-size buttonholes, and 5 sewing lettering fonts.
Expand your design capabilities with the generous 233 built-in embroidery designs, including 35 designs featuring Disney characters and a generous
6" x 10" maximum embroidery area.
Brother Quilt Club Innov-ís BQ3050 Advanced Sewing and Quilting
If you've ever dreamed of making incredible quilts, then the Innov-ís BQ3050 is for you. This versatile advanced sewing and quilting machine is vital for those who love quilting. The Sew Straight Laser Vision Guide makes it easy to sew straight lines, and is a huge benefit when quilting, piecing, pin-tucking and aligning rows of stitches. With the V-Sonic Pen for sewing, simply touch the fabric with the sensor pen for needle placement, setting the stitch width and setting the endpoint. 561 sewing stitches (531 built-in, 30 on CD), 14 one-step auto-size buttonhole styles, 3 sewing fonts, and 5 sewing lettering fonts. 5'' x 11.25'' Spacious workspace for large quilts. Large 3.6'' x 6.0'' LCD touch screen display.
You'll also love working on our large workspace for MuVit, and the included wide table will expand your workspace even more! The BQ3050 Quilters Bundle includes an open toe foot for expanded visibility of the needle area, a Stitch In The Ditch Dual Feed Foot for more efficient feed movement, a dual feed 1/4" guide foot to easily sew heavy fabrics in a straight line, a dual feed quilting guide to help you stitch straighter lines, couching dual feed foot to easily sew heavy fabrics in a straight line and a two-spool thread stand, which can hold up to two king thread spools.
Brother Luminaire 2 Innov-ís XP2
This revolutionary sewing, quilting, embroidery and crafting machine brings light to your world and so much more. StitchVision Technology helps you find virtually perfect stitch positioning* and more precise previews with an intelligent projection of light. Preview and edit designs and stitches directly on your fabric with the 5" x 3" virtual preview area which displays a guideline marker and a grid to create multiple rows of parallel stitching when you need it. With the Luminaire 2 XP2 you get 65 square inches of workspace and a 13.1" needle to arm area that's perfect for oversized quilts, or if you want to embroider, use the 10 5/8" x 16" frame with over 1,300 built-in embroideries including 192 built-in Disney designs!
Brother Pacesetter PS5234 Serger
This serger machine is versatile, durable, and sure to make your next DIY project a memorable one! The color-coded thread guides make staying organized and in control a breeze, letting you simultaneously handle two, three, or even four threads with one or two needles. Use the easy one-touch needle threading for two needles to get started on your craft the moment inspiration strikes, and the large extension table with storage means there's no project too big for you to tackle. And thanks to the cutting-edge technology utilized in this serger machine, you'll be able to do up to 1,300 stitches per minute.
Brother CV3550 Double Sided Cover Stitch
The CV3550 Double-Sided Cover Stitch allows you to create a wide range of cover stitches on all types and weights of fabric for both decorative and constructive applications. It features both single-sided and double-sided tri-cover stitches, wide cover stitches, narrow cover stitches as well as a chain stitch. Additional points include a free arm, LED light, thread cutter, color coded threading, easy looper and cover spreader threading, a presser foot pressure dial, and snap on feet. The adjustment dials for stitch length and differential feed are now conveniently located on the right-hand side. With 3 needles, one lower looper, and one cover spreader, the CV3550 creates not only professional hems, and chain stitching, but allows you to add double-sided cover stitching to your projects for a special one step finish previously unavailable!