Brother Luminaire 3 Innovis-is XP3
www.LuminaireXP3.com
"
Say Hello to the Luminaire 3 Innov-ís XP3 — the latest and greatest sewing, embroidery, and quilting machine from Brother. In addition to our revolutionary StitchVision projection technology, the Luminaire 3 has powerful wireless LAN capabilities, so you can transfer embroidery designs directly from your PC. You can even send images from a smart phone or tablet, get alerts when it's time to change thread, and enable multiple Brother machines to work together. It's a machine that's as brilliant as your ideas."


Revolutionary StitchVision Technology
Precision Stylus Included
Compatible with Artspira & My Stitch Monitor App
10 Needle Home Embroidery Machine
PR1055X
Brother Product Page
"
Are you ready to crush your creative goals? Good. We are, too. These 10 needles have never looked so good or been more productive. There's also a huge work area that's ready for you to think big – along with a library of built-in designs that'll help keep those creative juices flowing. Ready for more? How about MORE fonts, MORE editing features and MORE technology that will take your projects to places you've only dreamed of? The PR1055X is a creative powerhouse that's an incredible workhorse, too. Time is money – so we made it easy to get right down to business with features like 10-needle speed, auto-threading, and color sorting. There's no downtime with an important notification system, so you can be super productive. It's portable, too, so you can take your business wherever opportunity leads you. Plus, there are optional accessories like a Flat Brim Cap Frame to expand your product line. Is business booming? With wireless LAN Connectivity and optional PE-DESIGN 11 software, you can connect up to 10 machines and grow your side hustle into a full-fledged business operation. It's not all business, because let's face it - this all started with your creative side. And this machine is made to create."


Wireless Enabled
14" x 8" Maximum embroidery area
1000spm maximum embroidery speed
Brother Stellaire2 Innov-ís XJ2 Sewing & Embroidery Machine
Brother Product Page
"
The modern Stellaire2 Innov-ís XJ2 Disney Combo Sewing and Embroidery machine continues the Brother legacy of exceptional combo machines. With 788 embroidery designs, plus 101 Disney-exclusive designs (for a total of 889), a large 9.5" x 14" embroidery area, and wireless integration with Artspira‡, the Stellaire2 Innov-ís XJ2 will elevate your sewing and embroidery skills."


Large 9.5" x 14" embroidery area
56 inches of workspace, a spacious 11.25" from needle to arm
Wireless integration with Artspira
Brother Pacesetter PS700 Sewing & Quilting Machine
Brother Product Page
"
For sewers and quilters who like to create custom projects all their own, the Pacesetter PS700 Sewing & Quilting Machine is a must-have. It offers a comprehensive range of different features and options that will impress even the most experienced seamstress or quilting fan.

The sewing machine provides you with 180 built-in stitches, 40 of which are combinable. There's also 10 distinct styles of one-step buttonholes and 5 gorgeous sewing lettering fonts perfect for monogramming gifts for family and friends. And for those who love to create their own distinct patterns and styles, there's the My Custom Stitch Feature. Get ready to let your creative spirits soar with this fun and dynamic quilting machine!"


180 built-in sewing stitches, including 40 combinable stitches, 10 styles of one-step buttonholes and 5 sewing lettering fonts
Quilters Bundle (a $300 value), included
My Custom Stitch Feature
Brother Pacesetter PS200T Sewing & Quilting Machine
Click Here to Visit Product Page
"
Whether you're looking to sew or quilt, you can't go wrong with the Brother Pacesetter PS200T Sewing & Quilting Machine! It comes with 53 built-in sewing stitches, including a style of one-step buttonhole that makes sewing stylish dresses, jackets, and tops easier than ever.
The built-in threading system makes getting started on your next sewing project a snap, and thanks to the brightly lit LED work area, you won't have to worry about dropping a single stitch. This sewing machine also provides you the tools you need to construct cozy patchwork quilts or other DIY projects, so be sure to explore all the exciting features today!"
Brother NQ1700E
Embroidery-only Machine
Click Here to Visit the Product Page
"
The perfect machine to launch your embroidery journey, the Innov-ís NQ1700E has a host of premium features to get you started. With the NQ1700E, you can embellish and personalize all of your DIY projects with 258 built-in embroidery designs, 140 frame pattern combinations, and 13 embroidery lettering fonts, plus a large 6" x 10" embroidery area so you can tackle those big projects. Edit your creations right at your fingertips on the generous 4.85" color LCD touch screen display and when connected to a wireless network, send designs to your machine using Design Database Transfer (no USB needed)."


258 built-in embroidery designs and 13 fonts
6" x 10" Maximum embroidery area
WLAN Capability
Brother Essence Innov-ís VM5200
Click here to visit product page
"
Create just about anything you imagine with the all new Essence Innov-ís VM5200 home sewing, embroidery and quilting combination machine. From intricate stitch work using the 715 built- in sewing stitches, to embroideries using one of 318 embroidery designs, let your imagination soar with this affordable and dynamic machine.
The VM5200 is perfect for any level of skill with its easy-to-use interface and Droplight Positioning Marker that tells you where your needle will drop. Time-saving features will help you create more great projects in less time. The Automatic Presser Foot functionality allows you to keep sewing without stopping to lift and lower the presser foot each time. You'll love how easy it is to format multiple lines of text and even adjust their locations with a push of a button, right from the intuitive touch screen. Creating large projects is easier and more fun than ever! The expansive 11.25" of workspace and the 8" x 12" maximum embroidery area allows you to work on those large projects you may have struggled with in the past."


715 built-in sewing stitches
318 embroidery designs
8" x 12" maximum embroidery area
Brother BQ3050 Quilt Club
Advanced Sewing & Quilting
Click here to visit product page
"
If you've ever dreamed of making incredible quilts, then the Innov-ís BQ3050 is for you. This versatile advanced sewing and quilting machine is vital for those who love quilting. The Sew Straight Laser Vision Guide makes it easy to sew straight lines, and is a huge benefit when quilting, piecing, pin-tucking and aligning rows of stitches. With the V-Sonic Pen for sewing, simply touch the fabric with the sensor pen for needle placement, setting the stitch width and setting the endpoint.
You'll also love working on our large workspace for MuVit, and the included wide table will expand your workspace even more! The BQ3050 Quilters Bundle includes an open toe foot for expanded visibility of the needle area, a Stitch In The Ditch Dual Feed Foot for more efficient feed movement, a dual feed 1/4" guide foot to easily sew heavy fabrics in a straight line, a dual feed quilting guide to help you stitch straighter lines, couching dual feed foot to easily sew heavy fabrics in a straight line and a two-spool thread stand, which can hold up to two king thread spools."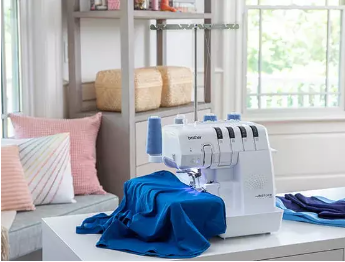 Brother Airflow 3000 Serger
Click here to visit product page
"This versatile and durable serger is a must-have for any sewing room. The AIRFLOW 3000 is more efficient than a traditional sewing machine as it can cut and finish seams all in one pass. Plus, changing threads is a breeze with Air Threading Technology.
The AIRFLOW 3000 is ideal either for advanced sewers who already use a serger but are looking to upgrade, or for serger beginners who use a sewing machine for garment construction, home décor, crafting, and quilting, but are looking to add decorative finishes to their projects."
Brother Cut & Scan
Click here to see all the options!
"The only cutting machine series with a built-in scanner, LCD touchscreen display, and true autoblade. No material selection required, and no counting blocks required."