Grant House Sewing Machines is a distributor of Janome Sewing Machines. Below is a list of some of the machines we carry in the store.
We offer free individual instruction on the machine you purchase. Reach out to our team today to learn more: sales@havefunsewing.com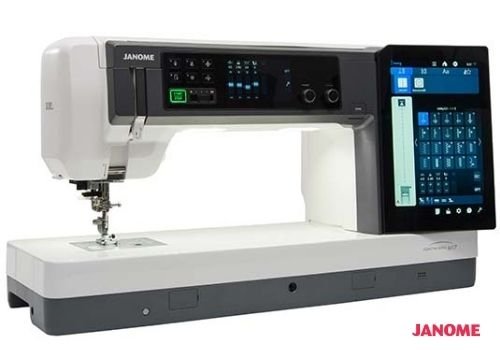 Janome Continental M17
HI-Definition Sewing
The Continental M17 combines great convenience features you have come to expect from a Janome machine but also a few industry firsts. The newest feature is the Thumbwheel located to the right of the needle, this allows you to raise or lower the needle without reaching for the handwheel. Boasting 850 built-in stitches including 13 different style buttonholes, plus 3 fonts, give you an incredible amount of options. 9mm zig zag means you have extra stitch width, combined with 91 different needle positions for bolder, more distinctive, and fine-tuned designs. The variable zig-zag provides precise control over stitch width via the knee lifter. The floating mode function will conveniently adjust the pressure to the presser foot while feeding fabric to protect delicate or high pile fabrics like velvet. Other features such as the metal cloth guide which provides a solid guide to achieve perfect hems, and the Automatic Built-in Needle threader are two more extremely useful standard features to allow you to achieve Hi-Definition Sewing.

Janome Continental M7 Professional
Janome knows that today's sewists have changed the landscape of the sewing world. You have high expectations and want a machine that meets exacting criteria. Sewists, meet the Continental M7, a machine that has been thoughtfully designed to meet your needs. It has the largest sewing area in the industry, providing you with the room, light and line of sight necessary to create. The 7" high definition, color touch screen is ergonomically placed on the machine for easy access and reading. New features, such as computerized needle plate removal, an intelligent feed system and an advanced integrated upper feed system will make your sewing easier and faster while the newly designed brushless DC motor gives you the powerful sewing ability that you deserve. It's time to take your sewing to the next level and the Continental M7 will take you there.
Janome HD9V2Janome HD9BE
Click here to see the product page
The Janome HD9 Professional is a heavy-duty straight stitch machine, but that doesn't mean you are limited on different feet and attachments. This machine comes standard with several exceptional standard accessories. Including:
A Knee Lifter to allow you to easily lift the presser foot without lifting a hand off your project. This is great for corners and curves.
4 Additional Bobbins, while these bobbins are Jumbo sized and hold 40 percent more thread than standard bobbins since this machine sews so fast, 1,600 SPM having extra bobbins at hand will sure to help you finish your projects more quickly.
Hemmer Foot, sometimes referred to as the rolled hemmer, is used to stitch the narrow rolled hems usually found on shirt tails, table linens, and along the edges of frills.
Janome Skyline S9
Click here to see product page
The Skyline S9 is the first machine in its series to include both sewing and embroidery. This great machine includes Wi-Fi capability that makes it easy to send embroidery designs from an iPad or computer straight to the machine.
In addition, we've developed five amazing iPad app to help make your embroidery better. Enjoy AcuDesign, AcuEdit, AcuMonitor, and the new AcuSetter and AcuSketch apps. Click on the icon to download at the App store.
Janome Sewist 725S
This mechanical sewing machine has features to enhance your sewing experience at any experience level. The 23 built-in stitches offer everyday stitches including stretch stitches, decorative stitches and a one-step buttonhole. With the one-step buttonhole foot, you are able to sew a buttonhole to size for your selected button. Other features include Adjustable Foot Pressure, Built-in Needle Threader, Extra High Foot Lifter for thicker fabrics, Drop Feed plus a Hard Machine Cover for safe storage.
Janome Travel Mate TM30
The Janome Travel Mate 30 computerized sewing machine will have you sewing like a professional in no time! This user-friendly machine comes complete with 30 built-in stitches, a jam-proof top drop-in bobbin and easy to read LCD display.

By the screen, you'll find great convenience buttons including a locking stitch button, easy reverse button, and needle up/down button. Plus, you can easily control your sewing speed by using the foot control. The machine weighs just 11 pounds, making it easily portable.

Get sewing fantastic projects right out of the box!
Janome Horizon Memory Craft 9450QCP
You've devoted yourself to an art form that creates a legacy. You deserve a machine that is as serious about your hobby as you are. Let Janome's Horizon Memory Craft 9450 QCP Professional take your creations to new heights.

You've devoted yourself to an art form that creates a legacy. You deserve a machine that is as serious about your hobby as you are. Let Janome's Horizon Memory Craft 9450 QCP Professional take your creations to new heights.

The Horizon Memory Craft 9450 QCP has all the features you require to simply sit, relax and sew. The large LCD color touch screen makes it so easy to navigate through the 350 built-in stitches, including 11 one-step buttonholes and 7 alpha numeric fonts including 9mm lettering and numbers. You can customize each stitch, including buttonholes, plus save as a favorite stitch. Sewing Applications gives you a variety of pre-set stitch functions, ready to sew zips, blind hem, buttons, quilting, rulerwork, patchwork and lots more.




Janome Airthread 2000D
Click here to see product page
Janome's AirThread 2000D was a winner of this year's iF DESIGN AWARD, a world-renowned design prize. The AirThread 2000D won for its Design Excellence, competing against over 6,000 other entries. More information on the award can be found here.
Good Design Award commends designs recognized as excellent designs that improve the quality of life, industry, and society among all screened items. The AT2000D won for solving the troublesome task of threading the needle by adopting a looper threading mechanism with an original air delivery method.
Janome CoverPro 3000 Professional
Click here to see product page
Take your professional finishing to the next level with the CoverPro® 3000P. Equipped with an industry-first, built-in top cover hem guide, you'll now have the ability to create industrial-quality top cover stitches with ease. The 3000P features an enhanced Tension Level Control (TLC) that gives you added precision in adjusting thread tension for fine knit and standard fabrics.
Enjoy smooth, consistent stitching made possible by Janome's ball-bearing driven motor shafts that provide vibration-free sewing. Other classic features include triple-needle and double-needle cover and chain stitches, and a free-arm configuration for those tight spots.
Add the hassle-free built-in needle threader and 3 LED light locations, including our exclusive Hi-light, and you'll see how Janome's long-standing reputation of precision engineering has your ultimate sewing needs in mind.
Janome CoverPro 2000CPX
Click here to see product page

A coverstitch machine is essential for the sewist looking to achieve a professional finish. The CoverPro® 2000CPX's innovative design is based on the marriage of an industrial-style cover hem machine and a convenient home machine. The resulting union has produced a high-speed, long arm, heavy-duty cover hem machine that looks and operates like a sewing machine. With a wide trip cover hem stitch, exclusive free arm configuration, and Tension Level Control (TLC). The 2000CPX is the most advanced Cover Hem machine available.
Janome 1522PG
Click here to see product page
"
In celebration of our centennial year Janome is proud to share the release of the 1522PG Anniversary Edition. Throughout our 100 year history Janome has led the way in engineering, development and innovation to bring a superior sewing and quilting product to market. Celebrate with us, the Janome 1522PG Anniversary Edition is modern and beautifully designed. Style meets function. Impressive sewing using Janome's world-class features: foot pressure adjustment with a convenient dial easily sew thin and delicate fabrics, easy to use auto declutch bobbin winder, solid metal frame construction, generous sewing bed and accessory storage compartment."