Skip Navigation
Website Accessibility
Grant House Sewing Machines is a distributor of Singer, Pfaff, and Viking Sewing Machines. Below is a list of some of the machines we carry in the store. Reach out to our team today to learn more: sales@havefunsewing.com
We offer free individual instruction on the machine you purchase.
Pfaff Performance Icon
Click here for product page
Only from PFAFF®—a comprehensive and innovative sewing experience that truly delivers to your highest expectation. Connect to Wifi and mySewnet™ embroidery library.
We've engineered the market's largest workspace: a generous 12" width and 5.5" height (310 x 140 mm), giving your hands plenty of room and a better view of large projects, like quilts. Our innovative lighting technology gives you the most even work light on the market for the brightest sewing experience. LED lighting is perfectly positioned at the most beneficial points to eliminate shadows. Apply metallic and novelty threads to your project with expert precision using our revolutionary ActivStitch™ technology. Thread is fed perfectly through the machine for gorgeous results, all thanks to built-in sensors that actively measure and regulate your thread. Load stitches to your machine from the mySewnet™ app— enabled with cloud storage and automatic updates via WiFi. When connected to the free app, step-by-step sewing instructions and tutorials from the Help Center can be viewed on demand.
Pfaff admire™ air 7000 Coverlock Machine
Click here to visit the product page
The PFAFF® admire™ air 7000 one-touch air-threading coverlock machine has great ease-of-use features and provides beautiful results.
At A Glance
One-Touch Electronic Air-Threading Loopers
Color Touch Screen
Exceptional Lighting
Free Arm & Knee Lift
26 Stiches
Pfaff Admire Air 5000 Overlock Machine
Click here to visit product page

Easy Threading. Beautiful Overlocking.
Create more inspirational projects than ever before with the help of the PFAFF® admire™ air 5000 one-touch air-threading overlock machine.

At A Glance:
4, 3, 2 thread sewing
1-Touch air threading
15 stitches
Built-in needle threader
Differential feed
Pfaff Quilt Ambition 635
The Pfaff Quilt Ambition 635 is a limited edition sewing machine, celebrating 160 years of Pfaff innovation. This full-featured machine has everything needed to create quilts and garments with ease and precision. Enjoy the needle threader, speed control, color touchscreen, and physical buttons for start/stop, reversing and needle position. The accessory kit includes 5 presser feet, tailored to specific sewing functions. With a large sewing space, original Pfaff IDT system, and 201 stitches, the Quilt Ambition 635 will serve all your sewing needs.
The Original Pfaff IDT system:
Absolutely even fabric feed from both the top and bottom. Integrated Dual Feed only from PFAFF®, precisely feeds all types of fabric from the top and bottom for perfect stitching every time.
Pfaff Quilt Ambition 610

Command your creativity with the Pfaff Ambition 610 sewing machine. Durable technology and artful operation make this machine stand out from the crowd.
Key Features
Stitch Elongation
Needle Up/Down
Mirror Image of Stitches
Twin Needle Program
Stitch Width Safety
Adjustable Thread Tension
Pfaff Passport 2.0

The Pfaff Passport 2.0 is a compact machine designed to fit into small space and also to be easily transported to classes or sewing retreats. But it is also a fully-featured Pfaff sewing machine, and best of all it comes with Pfaff's IDT dual-feed system!
Husqvarna Viking Sapphire 930
Click here to visit product page
The advanced SAPPHIRE™ 930 sewing machine, offers many features to assist and guide you throughout your sewing. A large sewing space allows you to manage really large projects, and threads are cut by the touch of a button, with the project still in the machine. Most settings are made by the machine itself based on what fabric or stitch you are using. All you have to do is focus on what you love! Sewing!
User-friendly innovation
Free-motion sewing can be done with any stitch.
A Start/Stop function makes it easy to sew with consistent speed without using the foot control.
Large area to the right of the needle ensures wonderful sewing ease.
Hundreds of 7mm stitches, specialty stitches and up to five font styles.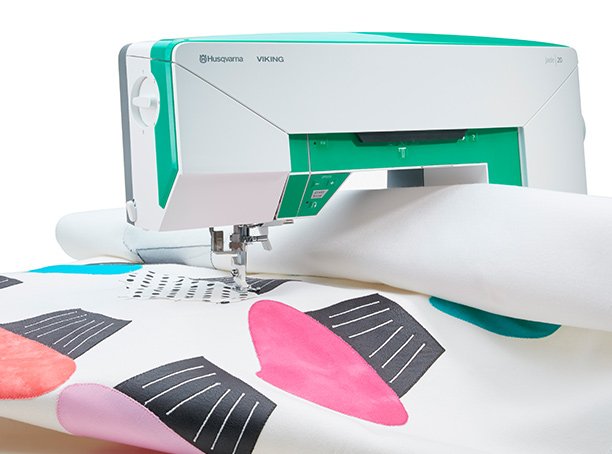 Husqvarna Viking Jade 20
Click here to visit product page

Large Sewing Space: Sew large home dec projects, quilts or garments easily thanks to the large area to the right of the needle, 200mm (almost 8"). The sewing space is the largest compared to most other sewing machines at this price point.
Sewing Guide: A Sewing Guide is conveniently located in the lid. Just find the fabric type and the sewing technique and it will tell me the perfect stitch and settings to use to achieve the best results.
Designer Accessory Compartment: The sleek modern design looks stylish and hides all the included accessories, even the foot pedal. No need to hide your sewing machine in a cupboard. It will look stylish anywhere.
Start/Stop Function: Sew without the foot control for easy, consistent speed. This function is great for sewing decorative stitches, long seams and winding a bobbin. It is also ideal for sewers with physical limitations.
More than 80 beautiful 7mm wide stitches
Your HUSQVARNA VIKING® JADE™ 20 sewing machine features more than 80 beautiful 7mm wide stitches. From quiliting to decorative sewing, your creative options are endless.

Pfaff Hobby Lock 2.5
Click here to visit product page
The exceptionally sturdy and reliable hobbylock™ 2.5 machine offers an automatic system for thread tension that makes it easier to get the right setting with a precise stitch result.
At A Glance:
4, 3, 2 thread sewing
15 stitches
Lay-in tension and color coded thread paths
Free arm
Threading Guides